Ho Chi Minh City has a constant temperature throughout the year. Temperatures are within 26-32℃ (79-90℉.) The main difference is whether it's the rainy season which is from April to November.
Regardless, the rainy season is nothing to be scared of as the rain is off-and-on showers that don't last long. The rain can last 15 minutes to 30 minutes and then stop. We were caught in the rainstorm and hid underneath a covered area until the raindrops were lighter.
2. Bus
If you want to take the local and scenic route, consider taking the bus. Our friend said that you can take bus #20 from Ben Thanh market to the Binh Khanh ferry station, and then hop on another bus to go to Can Gio Island. Since we haven't taken the bus route, check out these instructions on how to get to Can Gio district by
3. Taxi or Rideshare
Take a taxi or a rideshare program, such as Grab, will be a more expensive option. In a Grab car, it's estimated at 1,016,000 VND ($43.75 USD) for the one-way ride. The taxi driver will wait for you for the return ride, but the Grab driver may not!
4. Can Gio Island Tour
Visiting Can Gio Island via a day tour is another good option. A tour isn't necessary but it will help reduce stress with transportation. You can also meet other tourists. If you passed by many tour operators along Pham Ngu Lao street in District 1, check out some options for the tours. The cost for the tour is between $25-$50 USD per person. Reserve this affordable full day tour with lunch and hotel pick up.
Or, you can travel in style on a full day speedboat tour that departs from Ho Chi Minh City. Reserve this tour option here.
Time Needed at Can Gio Monkey Island ?
Specifically for Can Gio Monkey Island, you'll need at least 1.5 to 2 hours to walk around the area or longer if touring the area via a speedboat or rowing boat. (More information about these options in the "Things to do in Can Gio" section.)
Admission Fee
There are two admission prices which you'll pay for before entering the parking area.
For foreigners – 70,000 VND ($3.00 USD)
For locals – 35,000 VND ($1.50 USD) for adults; 20,000 VND (.86 USD) for children
* Tip: If you can go with your local friends, then have them pay for your ticket with the local price. It'll save you half the cost!
If you're driving a vehicle, car parking is 20,000 VND ($.86 USD) and scooter parking is 5,000 VND ($.22 USD).
Operating Hours
The park opens from 7am to 5pm daily.
Important Things to Consider
Announcements are made over the PA system in Vietnamese and English as you enter the Can Gio Monkey Island. The reminders are:
Do not bring outside food or drinks into the area.

Do not feed the monkeys as they are wild creatures.

Do not irritate or come in direct contact with the monkeys.

Be careful of your camera, cell phones, sunglasses, hat, and anything that is loose.

Children must be watched at all times.
No funny business here. The monkeys are smart and have an alternative job as burglars. They have quick hands and you won't know what happened until it's too late.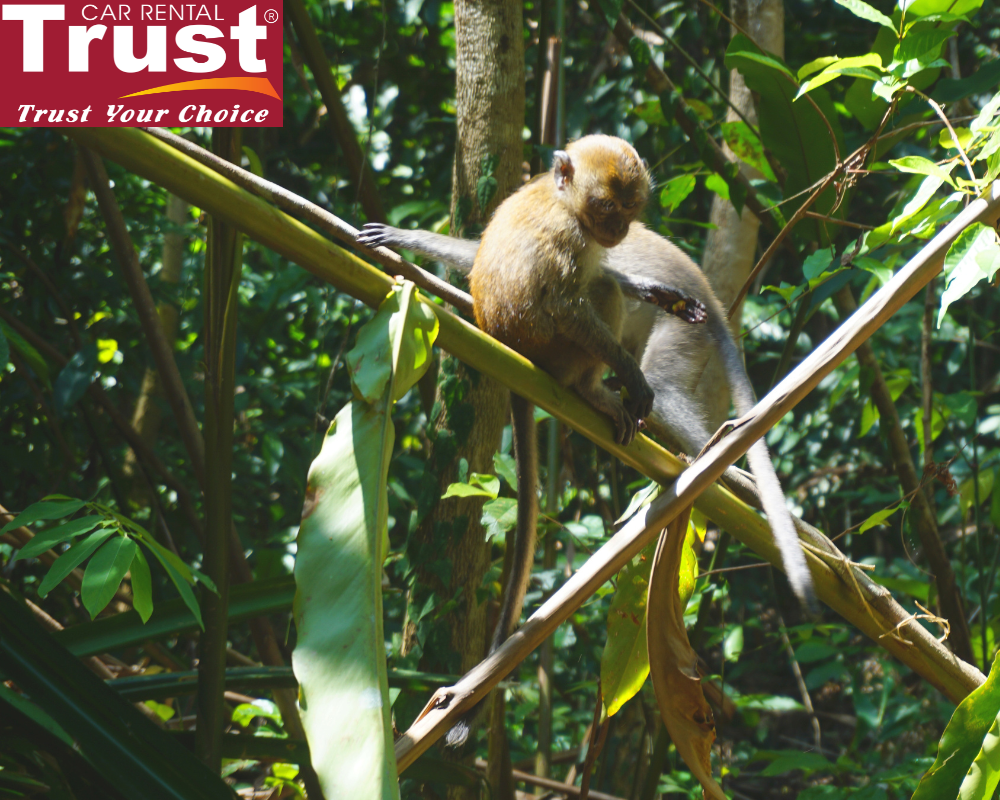 Our friend had his bottle of soda stolen within 30 seconds after leaving the car. Another friend had her hat stolen during the walk. A monkey jumped on her shoulder, took the hat off of her head, and climbed back up the tree – in mere seconds! Unfortunately, we couldn't find the hat anywhere so the monkey must be wearing it or have decorated a tree branch with it.
After the two incidents, we hid everything into our backpacks such as our umbrellas, hats, and sunglasses, so nothing looked shiny or enticing to the monkeys.
Things To See at Can Gio Island ?
Most of the attractions are at the Monkey Island (except for the last location). Everything is within walking distance. If you require extra assistance, this place may not be the right place for you. The roads are not paved and are uneven, and will flood during the rain.
1. See monkeys.
As mentioned earlier, you'll get your fix to see monkeys everywhere on Monkey Island. The monkeys are cute, especially the babies clinging on to their mothers. They roam around the park, climb up as many trees as possible, and live a stress-free life.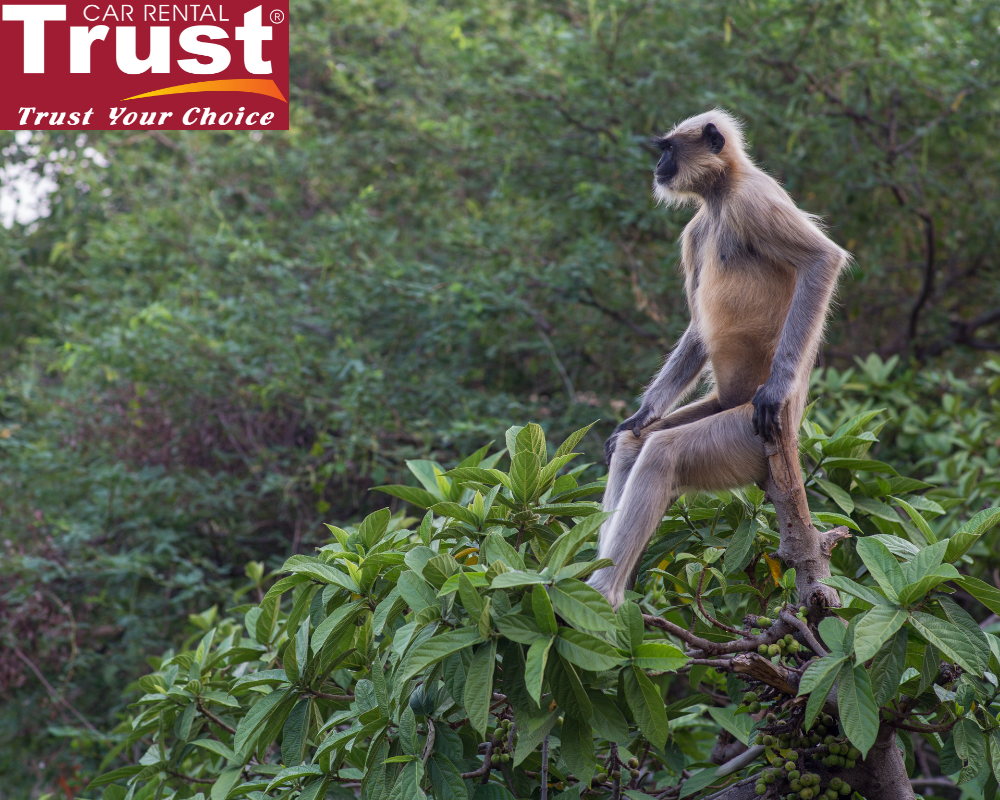 Therefore, visitors are entering their territory so we should respect their rules. Stay within a certain distance from them and don't touch them. Who knows how they'll react when you're close to them.
We'll reiterate this again – do not feed the monkeys! They get aggressive to humans and other monkeys whenever food is involved. The monkeys are fed by the caretakers daily. (We saw monkeys during our Danang visit who also stole food from visitors.)
What happens if the monkeys stole something yours? Chat with one of the caretakers in the area. They carry slingshots and may be able to retrieve your lost items.
2. Tour the area via a speedboat or a rowing boat.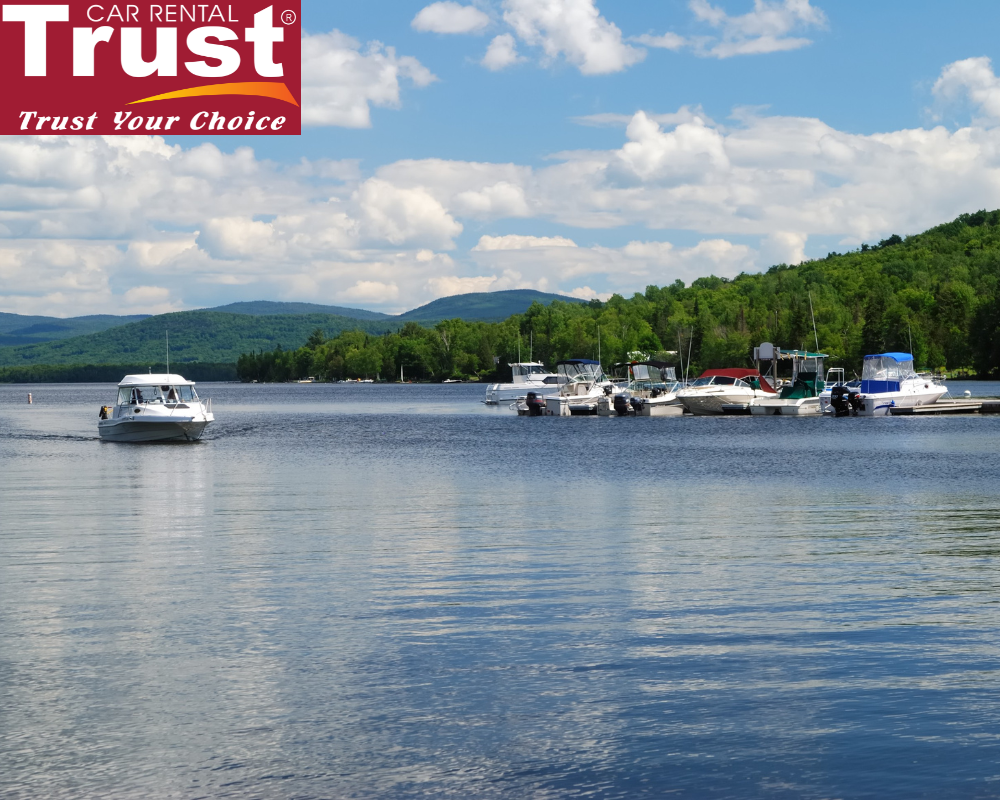 What better way to explore the area via a speedboat or a rowing boat tour? It's an additional cost to the admission fee.
The speedboat holds up to 6 people if foreigners or 8 people if local visitors. Cost is 600,000 VND ($26 USD) for the trip.

The rowing boat holds 2 people and costs 60,000 VND ($2.60 USD) for 60 minutes.
3. Walk through the Mangroves area.
It's quite a sight to see thousands of mangroves in the area. You can't miss the long spiny roots above and in the waters. We noticed that the walk through the area was very quiet and serene. We didn't hear any birds or other wildlife. As we entered closer to the Rung Sac Guerilla base area, we noticed that the monkeys weren't around either.
>>> Read more about us: What will do and see in Ho chi minh city of Viet nam
4. Explore the former Rung Sac Guerrilla base.
The Viet Cong established the former Rung Sac area as their base during the war from 1965-1975. It was a challenging area to live in due to the mangroves, crocodiles, and lack of communication. Can you imagine going through the mangroves during that time?
This area has a walking path which takes you to various aspects of the soldiers' lives and how they used the area in war times. There are signs in Vietnamese and English which describe the scene in greater details.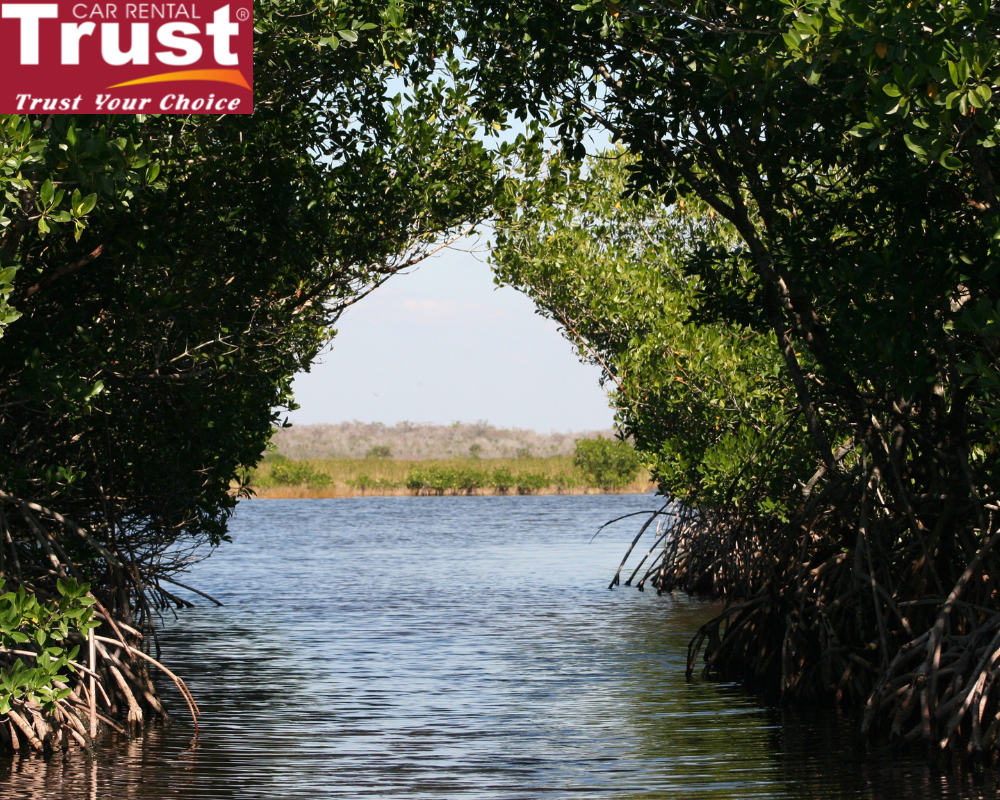 Mannequin soldiers are used in the scenes to help with visualization. Some of the props included soldiers carrying the wounded and a soldier killing a crocodile. Apparently, at the time, the crocodiles ate a lot of soldiers and the soldiers fought back against them.
In the center of the walking path, there is a shrine dedicated to the soldiers. You'll see people bringing food offerings and praying. From the main entrance, it's about a 20-minute walk to get to the Rung Sac Guerrilla base or you'll get there by the speedboat/rowing boat tour.
5. Feed the crocodiles through a "fishing" activity.
You have the opportunity to feed crocodiles for 20,000 VND ($.86 USD) at the Preservation area which is nearby the entrance. The Preservation area is questionable as the crocodiles were in shallow waters.
The actually a cruel way to feed them and we don't recommend this activity. Visitors receive a wooden pole with a piece of meat at the end of the line. The crocodiles congregate and try to catch the meat. Most visitors lift the pole up and down in a fishing motion to taunt the crocodiles. Poor crocodiles. They just want to eat!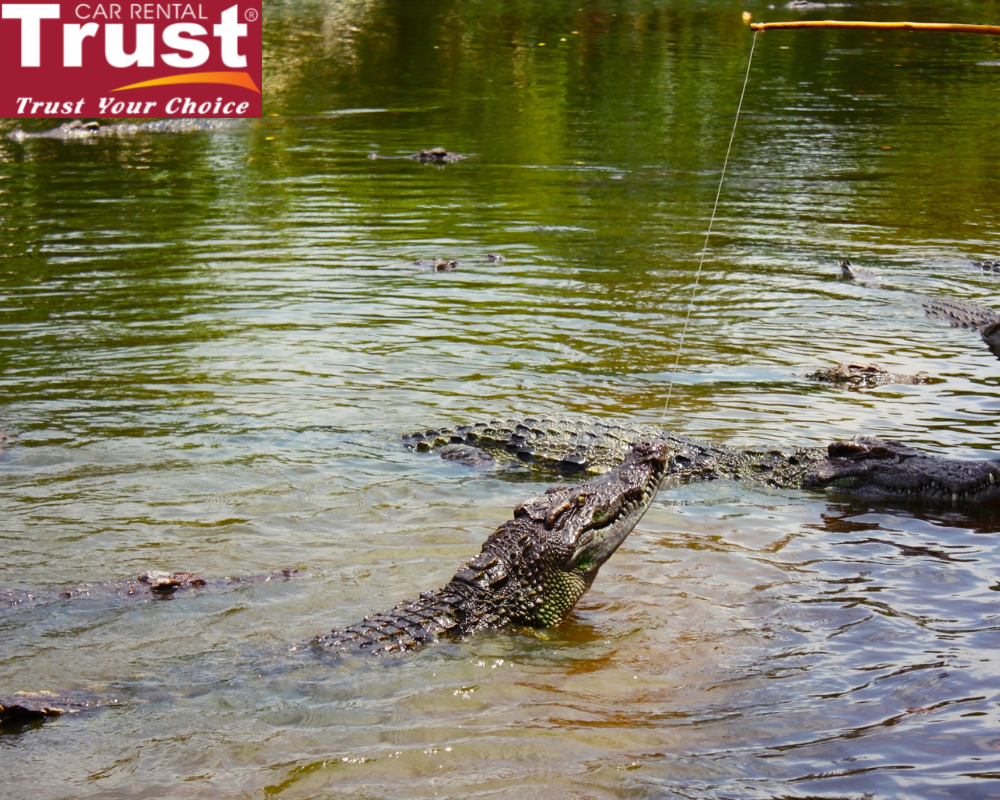 If you visit Can Tho in the West of Ho Chi Minh City. Recommend: the My Khanh Tourist Village has the same feeding activity but there are over 500 crocodiles there!
6. Eat seafood along the beach.
After hitting the major spots at Monkey Island, let's head to lunch! Head to the Can Gio Beach (also known as the 30/4 Beach) (along Phan Duc street) to feast on fresh shellfish. You can easily walk along the coastline to find vendors grilling up cheap and delicious shellfish and shrimp.
Don't fall for this trickery like what we did. As we parked along Thanh Thoi street, several people on motorbikes came up to us and said that it was too far to walk to the restaurants. They would bring us on their motorbikes to their restaurant for seafood and with outdoor seating.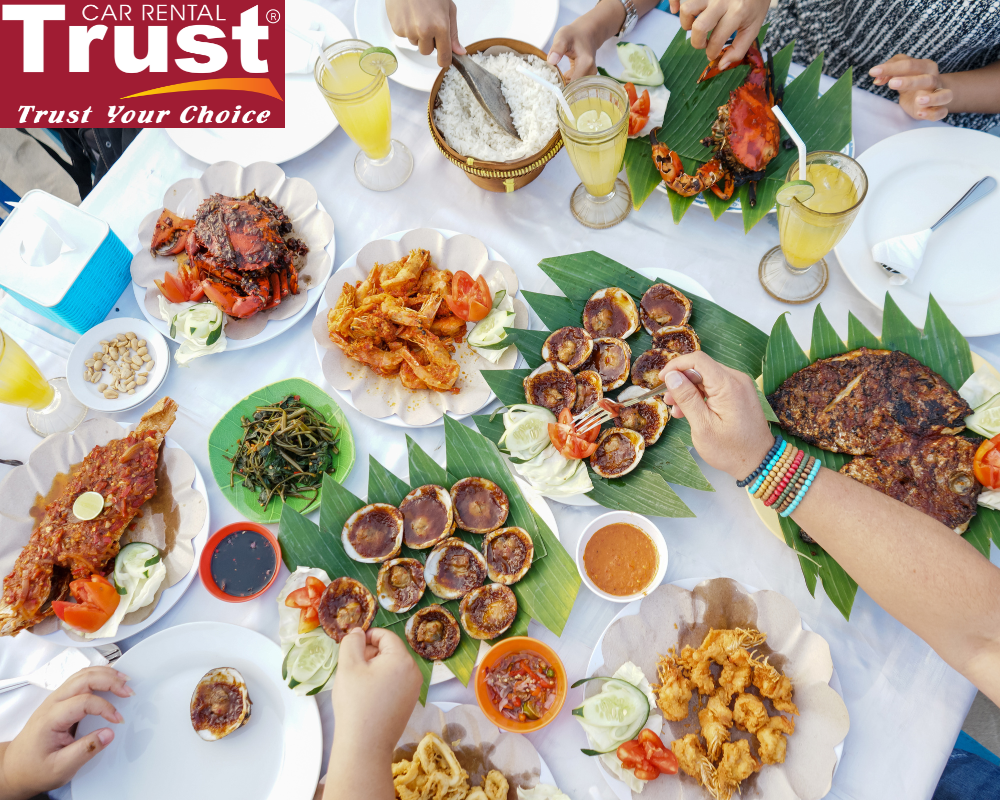 We agreed and then realized that it was only a five-minute walk. The restaurant that we sat on didn't have any prices on the menu, so we ordered seafood noodles and then left to find some grilled seafood.
Once you've ordered local grilled seafood, you can devour them on the beach. The unique part about the beach is the black sand. It's not an attractive area such as in Mui Ne or Phu Quoc Island. The ocean water was a bit murky too. Regardless, the seafood was fresh and a great way to end the Can Gio trip.
Finally thought
Right! Can Gio Island is a great weekend getaway for a weekend getaway with nature and wildlife. Why not take a break from the chaos and add this place to your existing Ho Chi Minh City itinerary?
If you love monkeys and want to see the animals up close, then Monkey Island is the place to visit. As long as you follow the instructions above and hide your valuables, you should have a good time. Contact
Vietnam Trust Car Rental
website to find out what an enjoyable trip!