In addition to fresh seafood, Vung Tau is also known for its Top 10 outstanding dishes not to be missed. Vung Tau is an ideal place for entertainment and relaxation, only about 100km from Ho Chi Minh City, but with sea and seafood, weekends are often crowded with tourists.
If you come here without knowing the 10 delicious restaurants in Vung Tau below, it is a pity. Let's follow Viet Nam Trust Car Rental to discover Vung Tau cuisine!
1. Gỏi Cá Mai ( Mai fish salad)
Goi ca mai is one of the specialties considered as the top of most attractive dishes in Nha Trang. Mai fish is quite like anchovies, white body, small less fishy so that people often use it to make salad. For locals, the best goi ca mai is when selecting the freshest alive Mai fish – the fresher it is, the more delicious the salad will be.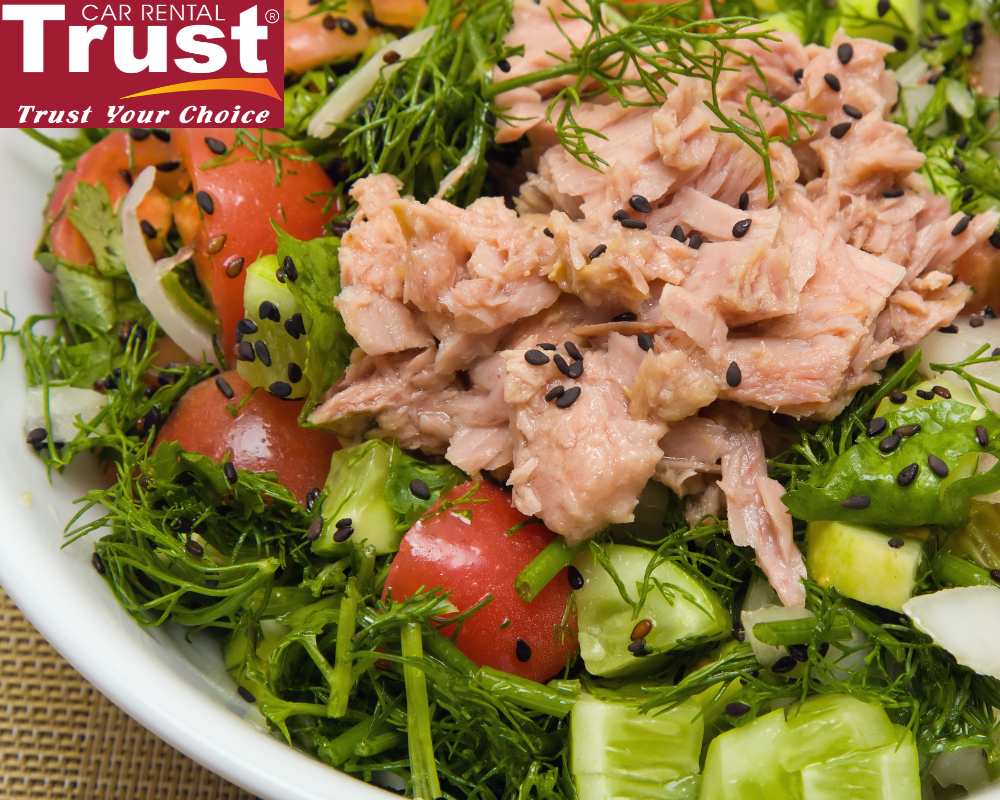 After being caught, Mai fish will be shaved off all flakes. It need to be boneless to be very absorptive marinated. The ingredients to marinate are quite simple such as vinegar, garlic, lemon and chili. When fish is medium-rare, it will be mixed with some "bột thính" (a kind of brown rice flavor), peanuts to raise the smell. This salad is served with fresh vegetables and rice papers. The sauce of this dish includes garlic, minced chili, sugar, lemon, vinegar, fish sauce, crushed peanuts, soda or shrimp sauce. Although the ingredients seem simple, making a delicious sauce or not is all about the art.
>>> Book Vietnam tour this link
2. Lẩu cá đuối (Sawfish hot pot)
Sawfish hot pot is one of must-try food once you visit here. As boneless fish and only soft cartilage, sawfish is quite popular and cooked in many different ways like grill, stir-fry, or hot pot, yet hot pot is still the best. Sawfish is prepared carefully, and its intestines rinsed thoroughly and then soaked in salt water or alcohol to remove fishiness.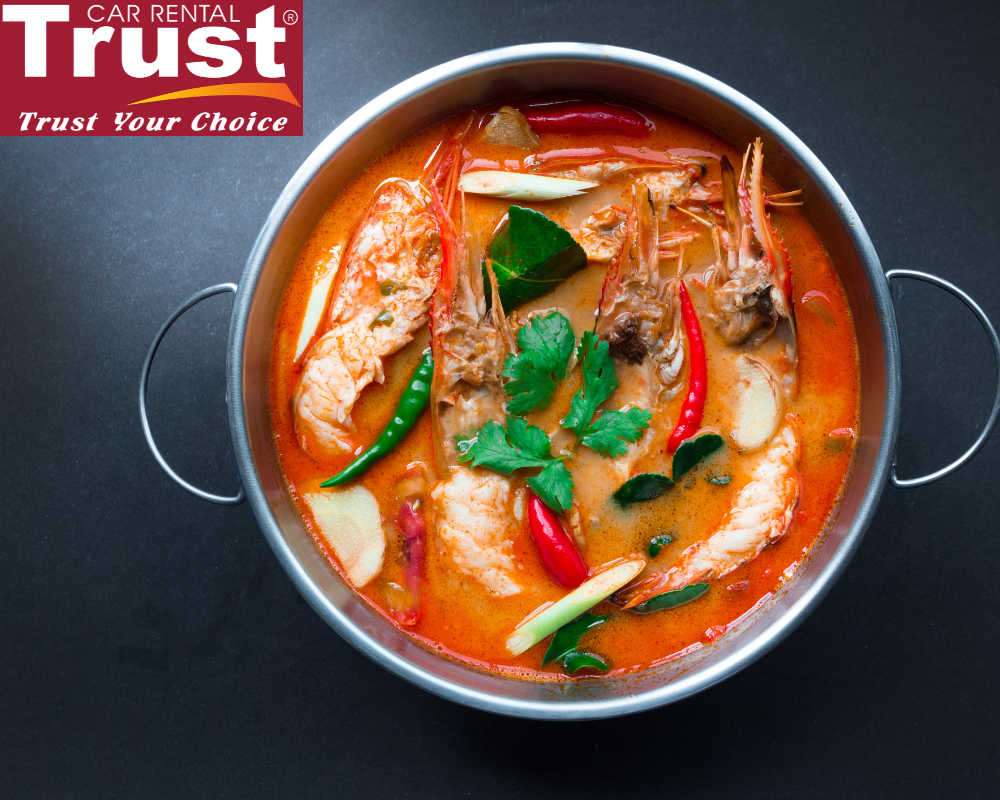 Fish will be chopped into medium pieces, cartilage chopped into small pieces as well, then we stew them with low heat in order to have the sweet broth. After that, add some spices to be well-seasoned: some tamarind juice, sour bamboo shoots, cilantro and coriander finely chopped.
The hot pot is often served with fresh bun (a kind of Vietnamese noodle), green banana, flowers of banana tree, and a small bowl of fish sauce with some slices of chili.
Sawfish hot pot has its unique taste: sourness and lightness of tamarind and young bamboo shoots, sweetness from pieces of chewy saw fish and crispiness from cartilage. All these taste will absolutely please diners when trying this dish.
3. Banh Khot (Khot cake)
Banh Khot is one of the most favorite dishes in Vung Tau. The locals can eat banh Khot as their daily meals. Especially, the brand "Banh Khot Goc Cay Vu Sua" is very popular to not only locals but also tourists. This restaurant is always crowded with diners. These round small Khot cakes with its white surface, red layer made from shrimp roe, green topping of chopped onions.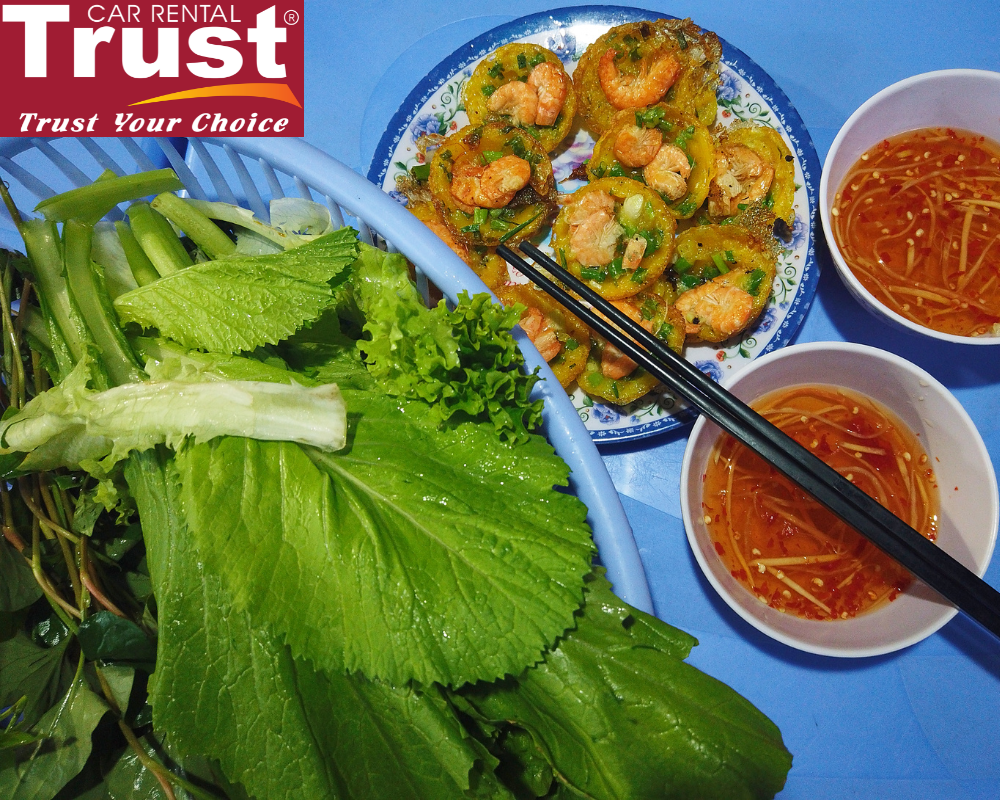 Banh Khot Vung Tau is similiar to Banh Can of the Central. Yet, Banh Khot is crispy, not tender like Banh Can. A combo of Banh Khot has 8 – 10 units which are well-cooked, hot, arranged in pairs and served with some fried minced shrimp and onions. Every time you take a plate of Banh Khot, it's hard to stop eating.
4. Banh Xeo Vung Tau (Vung Tau pancakes)
Pancakes in Vung Tau are also famous for its taste which cannot be found in anywhere. Ingredients include rice flour, shrimp, pork, bean sprouts but its taste is more significant thanks to the crust made from fresh chicken eggs, and the filling full of onions and mushrooms. Taste of pancakes in Vung Tau makes diners always impressed by many reasons, from the fragrant crispy crust, the smell of eggs to the fillings full of shrimp and pork. The sauce of this dish also has its special way to make. At first glance, the sauce might not be complicated, but once you try it, it will definitely make you feel full of spices from the lightness of fish sauce to the sourness of fermented vegetables.
5. Tiet Canh Tom Hum (Lobster blood)
Lobster blood sounds quite strange but it is a tremendously attractive dish only in Vung Tau. It is very difficult to cook lobsters. Hence, lobster blood is a quite fussy dish.
In Vung Tau lobster blood is often made from dragon lobster. With black stripes on the back, blue legs, shiny head, blood of dragon lobster is considered the most delicious. To make the food, people have to select a 1kg lobster in a good living condition. Lobsters are cleaned off sand, then tightly folded, and cut into the nape of lobsters until its blood burst out.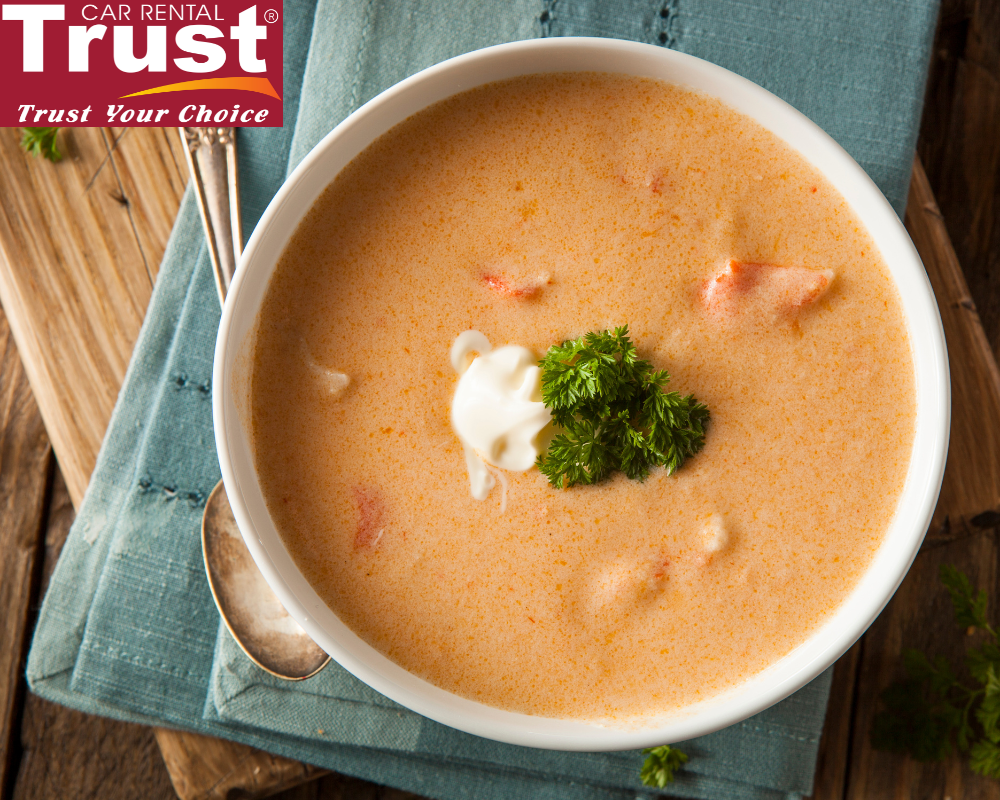 It is milky white, not brick-red as most people think. When the blood is solid, we can make the lobsters blood. In this dish, except from the dragon lobster blood, there is more and more meat from lobster pincers which are made and well-seasoned and added some minced vegetables including perilla, coriander. After that, adding some cilantro and roasted peanuts.
Lobster blood is served with baked rice paper, lettuce, green banana and slices of star fruits.
6. Chao Hau (Oyster Porridge)
Oyster Porridge is an extremely popular food in Vung Tau. It's difficult to find a bowl of delicious dish when all the shops serve it.The food seems to be easy to cook; however, it's hard to make a mouth-watering oyster porridge. You need to put a reasonable amount of seasoning to balance the taste of the porridge.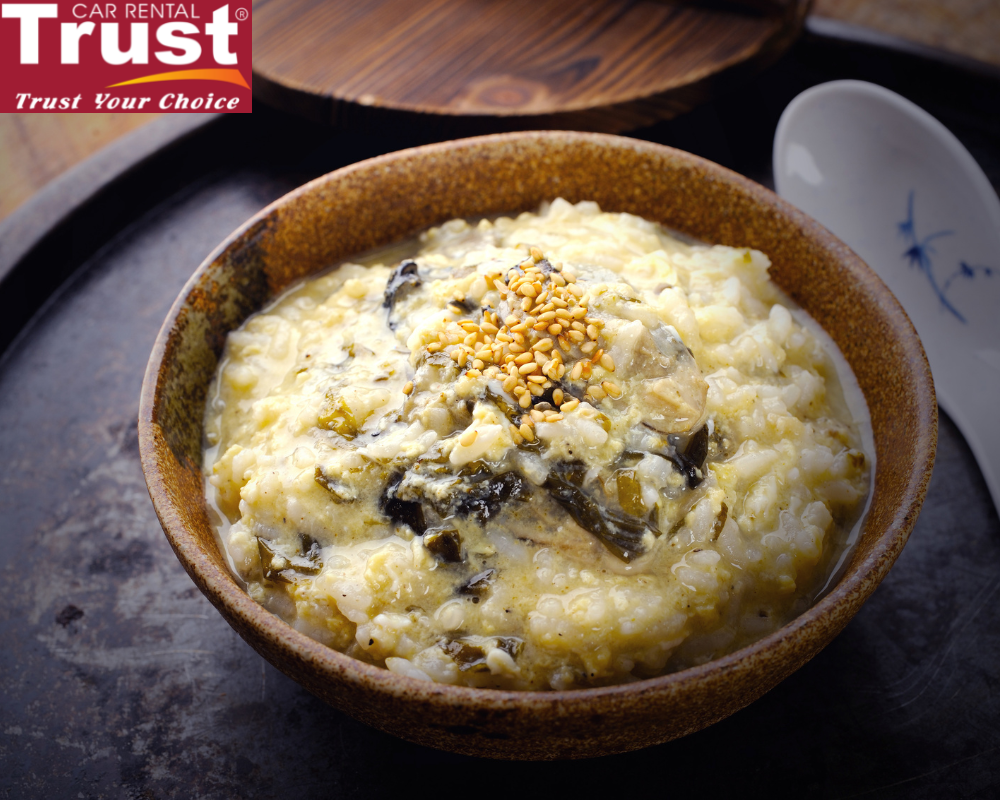 Porridge cooked from aromatic good rice with natural sweetness of fresh oysters, sprinkling a little cilantro, a little pepper. Served with the porridge is a prime bowl of fish sauce withvegetables, herbs and banana flowers.
That's all we need for this dish but delicious oyster porridge brings to us a very strangely good taste. A bowl of oyster porridge brings you a fragrant taste like sea, which make diners find it hard to resist the appeal of this simple dish. It's not only nutritious but also tasty and deserved to be the most impressive food to all travellers.
>>> Read more about us: Viet Nam Trust Car Rental: Vung Tau travel guide & tips
7. Water Lily Hot Pot
Been for more than ten years, water Lily hot pot has become a familiar dish to all local people. This elegant food is made by Phuoc Hai villagers in a significant way. Unlike other fish hot pot, this one is served with water lily, so people call it "Water Lily Hot Pot"
Fish used to make this dish is carefully selected. The best parts of giant sea catfish are head and organs which are used to be main ingredients of hot pot. Nowadays, the giant sea catfish isnot widely available as it was before.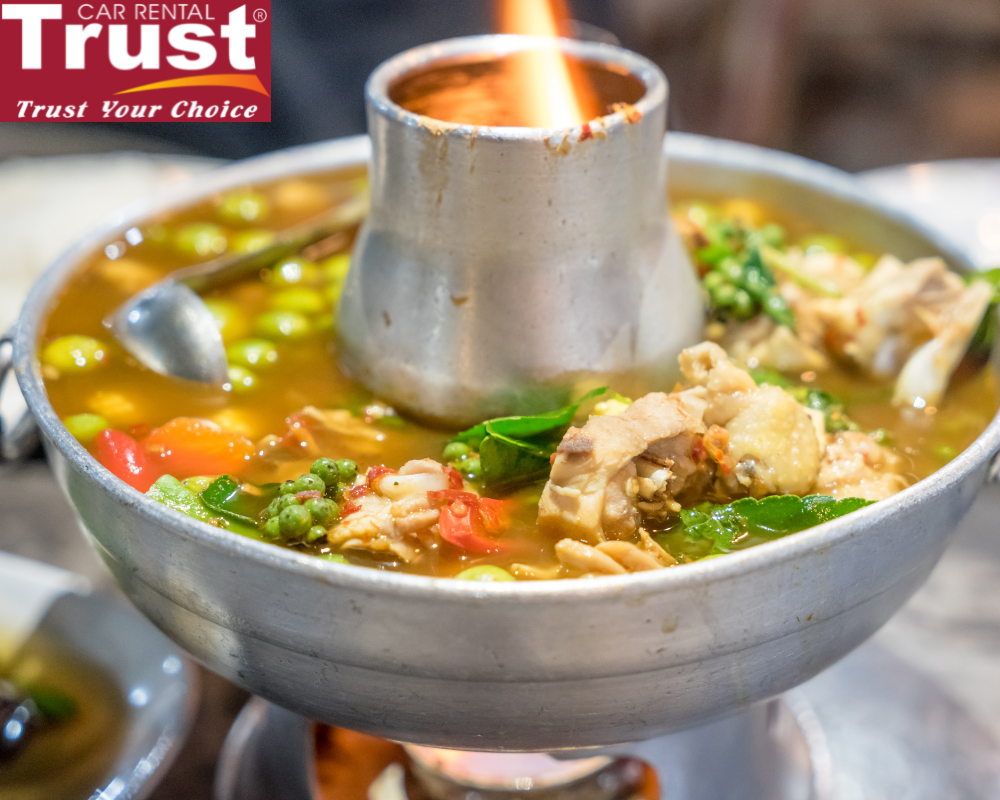 Thus, people use other species of fish to replace such as dua fish, cobia, gray mullet. Spices for this food are quite various including tamarind juice, soyabean milled, sugar, fish sauce, chopped lemon grass and stir-fried finely, crushed lemon grass roots, tung ho, coriander, rice paddy leaves, basil and thin slices of peppers.
8. Banh Canh
On the way from Sai gon to Vung tau, tourists often stop by Ba Ria to have snacks and a bowl of banh canh Long Huong. No need to be fussy with many ingredients, this longstanding vendor has conquered several foodies by its simplicity and purity.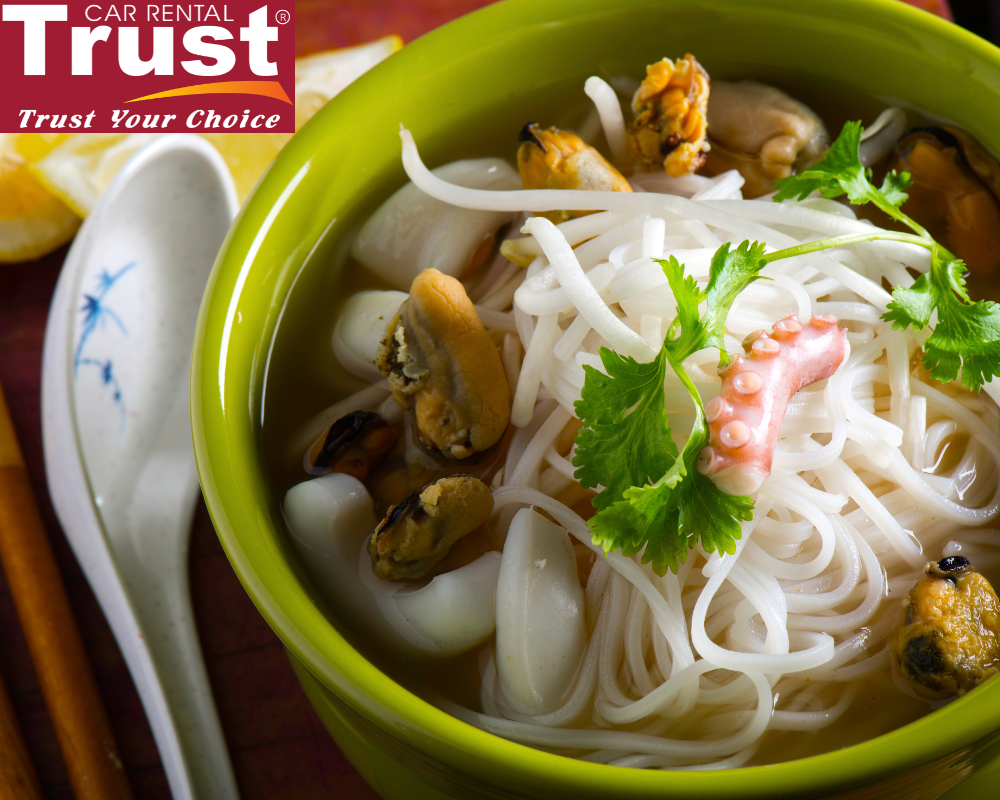 Banh Canh is made from rice and tapioca flour, light broth, tender and greasy pig legs, pork. After a long ride, all you need is a bowl of banh canh and suagarcane juice which will wipe off your tiredness to continue your journey with many other activities awaiting in Vung Tau
9. Mut Hat Bang ( Terminalia Catappa Jam)
Hat Bang jam is a kind of specialty gift of this land. When terminalia catappa is riped in July and August, they fell on the road. Terminalia catappa is dried and split to take out their seeds. Then, people roast those seeds ingeniously to sell good products to both locals and tourists.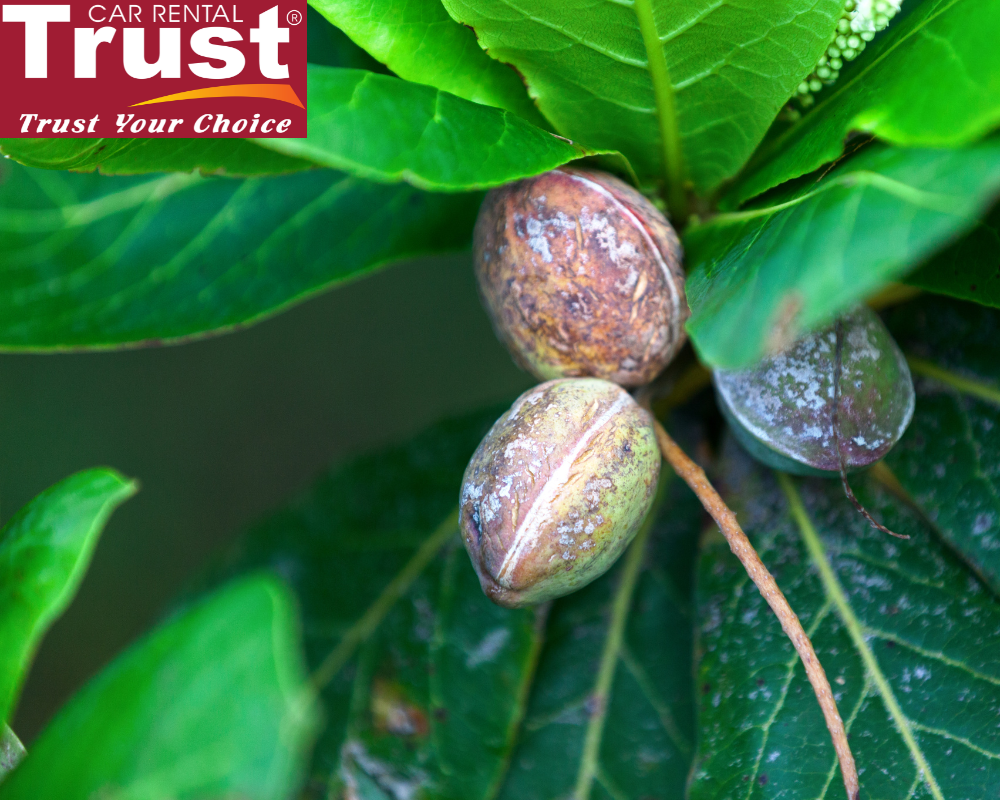 >>> Read more about us: Top 10 Vietnamese street foods you must try when coming here!
10. Salt egg pound cakes
Not everyone knows, Vung Tau is home to the salt egg pound cakes. And if you are not too familiar with the tours of Vung Tau, it would be difficult to know where to buy this special cakes as a gift.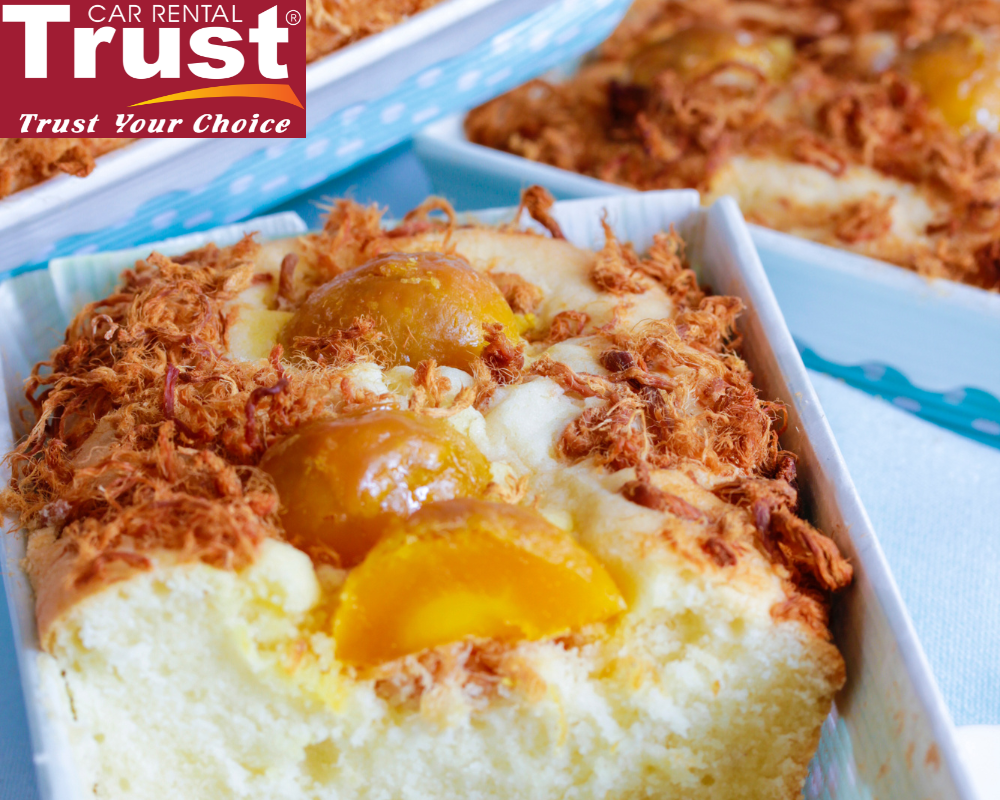 Unlike other normal cakes, salt egg pound cakes stored longer than other cakes you usually buy in bakeries. For many people, making pound cakes might not be hard but you need to be a skillful cook to make the best quality dish. A special feature of this cake is that the cake is often baked in iron mold on a charcoal.
Finally thought
Traveling to Vung Tau, you will have the opportunity to enjoy beautiful beaches, explore outstanding attractions, experience local specialties during the trip. The foods above will be a good idea for those who are looking for a handmade gift for your loved ones.