Deputy head of the HCM City of Ben Thanh bus station. Urban Railway Management Board, The chairman of HCMC said" that the board-devised training programme was to ensure there was no lack of high-quality workers to operate the urban railway system.

Engineers and workers selected to go abroad for training will come from transport and railway programmes at city universities, He said.

He added that the metro line would be the first railway route to use ultra modern technology in the country. The new system has pushed Viet Nam to look abroad to train staff needed to operate, maintain and protect it.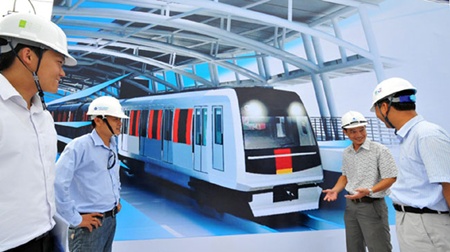 Besides training programmes, Japanese experts will visit HCM City to guide Vietnamese engineers and workers in the first stage of operation, he said.

The management board has also proposed the establishment of a company to take charge of the city's new metro. Currently, the board is collecting opinions on a hypothetical HCM City Urban Railway One Member Co. Ltd, which would be in charge of all problems about urban railways.

If opinions are favourable, the city will propose idea to the Government for approval. Previously, the Deputy Prime Minister Hoang Trung Hai agreed to set up a State-owned company which would be in charge of urban railway in HCM City.

The 19.7km Ben Thanh-Suoi Tien - Mui Ne line will run through 1, 2, 9, Binh Thanh and Thu Duc districts in HCM City as well as parts of Di An district in neighbouring Binh Duong Province.

Of the total length, 2.6km will run through three underground stations. When the line opens in 2015 it will be able to carry 186,000 passengers per day. It is expected to be in full operation by 2018 and passenger numbers are expected to triple by 2020.