Ho Chi Minh Travel Tips | Thing To Do in Ho Chi Minh city
Wednesday, 11/06/2014, 16:53 GMT+7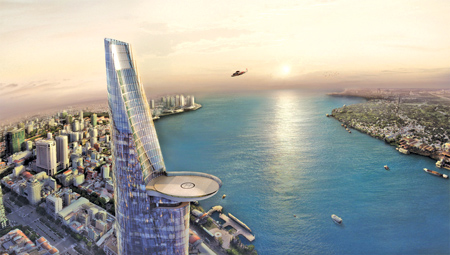 Although Ho Chi Minh City (often shortened to HCMC or HCM in writing) has been the official name of the city since 1976, the old name "Saigon" is still used daily by many Vietnamese — particularly in the south. "Saigon" simply has less syllables and is used more often in daily speech
Ho Chi Minh City, or Saigon, is the largest and most chaotic city in Vietnam. It is the business and financial center of Vietnam, with a prominent history that goes back hundreds of years. It is a city with a billion things at the same time. The city has a lot to offer: beautiful shops, fantastic nightlife, good museums and delicious food. You can read all about it in this Ho Chi Minh City travel guide.
5 reasons to visit Ho Chi Minh CIty
Learn more about the Vietnam War at the War Remnants Museum and the Cu Chi Tunnels
Feel the energy of the city from a rooftop bar
Enjoy the most wonderful local dishes in the striking restaurants and street stalls
Take advantage of the convenient location of the city to discover the Mekong Delta
Explore the markets and off the beaten track lanes behind a motorcycle
Best travel time to Ho Chi Minh city?
February: Hardly any rain, the least humidity and a city full of flowers for the Tet parties.
March: Little rain and humidity.
December: December is cooler than normal for HCMC and relatively dry.
Money money exchanges and gold traders at Ben Thanh Market are the first choice of locals and visitors when it comes to currency exchange.
Local events and holidays
Tet New Year (first day of the first lunar month) – The city is partying or back to their home town. Ð Nguyen Hue has a large flower exhibition.
Saigon Cyclo Challenge (mid-March) – Professional and amateur cyclists find out who is the fastest; the money raised is donated to local charities that support underprivileged children.
What to see and do in Ho Chi Minh City
With streets full of French colonial buildings and a constant buzz, Ho Chi Minh City has rewarding sights for temple and museum visitors, market lovers, history junkies, architecture fans, park enthusiasts or just anyone who wants to see Vietnam's most economically vibrant city in action.
Part of a huge war museum in Ho Chi Minh. They offer visitors a glimpse into the underground life of Vietnamese soldiers during the war.
A shocking reminder of the long and brutal Vietnam war. Graphic photos and American military equipment can be seen. There is a helicopter with rocket launchers, a tank, a fighter aircraft, a single-seat attack aircraft.
3. French colonial buildings
Everywhere in the country you will find traces of the French colonial era. The best known in this city are Saigon Central Post Office, Saigon Notre Dame Cathedral, Ho Chi Minh City People's Committee and the Saigon Opera House.
4. Streetfood tour achter op scooter
The best streed food in Vietnam can be found here. With a streedfood tour you sit on the back of the scooter and travel like a true local from place to place to try the best food.
The best going out of Vietnam; a cheap drink in Bui Vien Street, backpacker street, sweep up a club, enjoy a rooftop bar view or watch a traditional show at the opera house.
The base of the Vietnamese general until his death in 1963. It became world famous in 1975 when a tank from the North Vietnamese army drove through the main gate and ended the Vietnam war.
7. Bitexco Financial Tower
De Sky Deck of this building is 262 meters high and offers amasing views of the city from the Sky Deck.
8. Nguyen Hue Walking Street
Voor een van de beste plekken van het sociale en dating leven in de stad. Duizenden mensen mengen zich hier in de avond en genieten van een koele avond in het centrum, omringd door een indrukwekkende architectuur.
You can experience the daily life of the local population here. The two best-known markets are Ben Thanh Market and Binh Tay Market.
Take a boat trip on the river; in the evening you can take a dinner cruise, during the day you can take a boat trip to the secret city canals where the locals live, or longer day trips to the Cu Chi tunnels and the Mekong Delta.
It may be a controversial claim, but this city is the culinary capital of Vietnam. It offers the best of the delicious regional cuisine of the country, the north and the center, a lively street food scene and some fantastic international eateries. If you love food, this is one of the best cities in Asia.
Local restaurants at Ho Chi Minh city
The Garlik De Tham Restaurant
Hum Vegetarian, Lounge & Restaurant
Royal Saigon Restaurant Bui Vien
Nightlife at Ho Chi Minh city
You can find the best nightlife of Vietnam in this city. The hippest rooftop bars, trendy clubs and lively live music bars, traditional shows and the local beer drinking scene on low plastic seats.
8. Ben Thanh Night Market
10 Nguyen Hue Walking Street
Transportation at Ho Chi Minh city
The constantly growing network of domestic flights from Vietnam connects Ho Chi Minh City with every other major city in the country, which is good news for visitors with limited time. The prices are reasonable, and flying to places such as Hanoi, Hue, Nha Trang and DaLat saves a lot of time.
The cheapest way to or from another city in Vietnam to / from Ho Chi Minh City is by bus. The bus to Dalat takes around 7 hours ($ 11- $ 15) and Nha Trang 22 hours ($ 10- $ 20). You can buy bus tickets everywhere at travel agencies in the city center or at your hotel / hostel. There are also buses to Mui Ne and the Mekong Delta, although it can often be more convenient for the Mekong to explore this area by tour.
Trains to northern Vietnam start from Saigon Train Station. The train to Nha Trang takes around 6.5 hours ($ 14- $ 32).
Walking – Most of the sights are in the center nearby. A great way to explore the city is on foot.
Car rental Ho Chi Minh includes a driver is the best way to getting around Ho Chi Minh for tour sightseeing, business, taxi transfers because it is illegal for foreigners to drive in Vietnam without a Vietnamese driver's license.
Read
here
more for experience travel to Vietnam
Read
here
for Vietnam weather tips.
Written : Trust car rental